COUP D'ETAT: KOCHS ARE WARLORDS
****
****
I have lived through 5 coups d'état. I know a coup d'état when I see one. USA is living through one right now as we speak. A Coup doesn't have to have guns (yet) and a military takeover of power to be one.
****
A nation is manipulated through a series of fiendishly planned rolling crises. Inchoate mass fear grows but its targeting is skillfully re-directed toward infighting, such that it becomes diffuse and rather impotent against the actual instigators. Trust for government and national institutions grows rancid.
****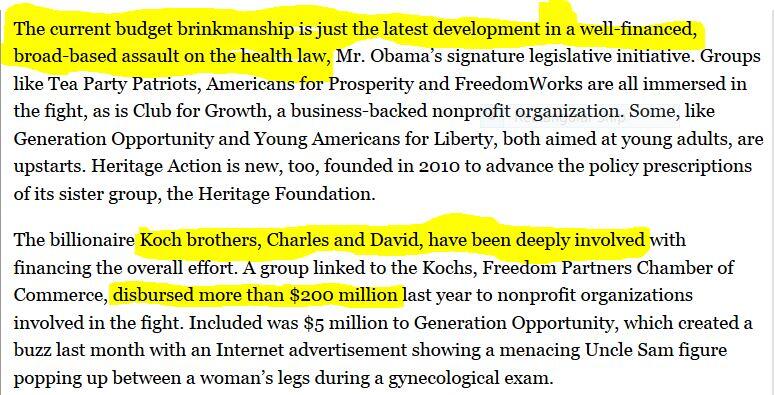 ****
Then a messiah runs to the rescue, suspends the constitution, promises to get rid of "waste, fraud, & abuse." Says the abrogation of said Constitution is only "temporary." Commandeers media to support "the people" in their new "Freedom, Liberty, Fraternity". Flag and anthem totems resurge in fresh parades glorifying the mother/fatherland. Power has been seized. Resistance is futile.
****
My native country went 5 times through this familiar choreography in its first 24 years after independence from colonial rule. Western Scholars of "the Third World" posited that these upheavals were the result of societies that had yet to build:
1. Strong Democratic governing institutions, rather than strongmen
2. Consensus of the governed
3. A national Identity rather than ethnic loyalties
4. An educated ruling elite that creates mechanisms for distributing political power efficiently among different constituencies
5. Capitalist ethos that productively harnessed and competitively rewarded the nation's talents
6. Rule of Law and a Constitution that balanced majority rule with protecting minority rights
****
Well then, so why is the good old USA, the "oldest democracy" hurtling toward the fissures that cause a FAILED STATE, ripened for a coup d'état? It is no hyperbole to identify all the symptoms of a coup d'état in the making, from the GOP hostage taking underway.
***
Fareed Zakaria
***
No 2, "Consensus of the governed" is a key linchpin in how a Democracy works. But it also the weakest link in the components of a functioning Democracy. In the founding of this country a lot of quill pens were nubbed in structuring how this republican form of government would function democratically without giving all power DIRECTLY to the governed for 2 reasons. First, fear of mob rule and secondly, the dissolution of a fragile union of disparate states.
****
However, the Insurrection Act of 1807,  whose limits Abe Lincoln would strain 54 years later during the Civil War, also limited the power of the Federal government to act to quell rebellions. Power devolved to the States, and following Reconstruction, the passage of Posse Comitatus in 1878  pretty much tied federal government's hands.
_____________________
"Whoever, except in cases and under circumstances expressly authorized by the Constitution or Act of Congress, willfully uses any part of the Army or the Air Force as a posse comitatus or otherwise to execute the laws shall be fined under this title or imprisoned not more than two years, or both"
_________________
****
Fast forward more than a century and new challenges test the applicability of the Insurrection Act. In the aftermath of 9/11 and Katrina debacle, Bush got congress to tinker with Insurrection Act to allow the government to act in the event of terrorists operating within the US, and natural disasters. The definition of terrorist of course only related to Foreign agents. However in 2008, those expansions in the law were repealed and it reverted to the 1807 law.
****
What this means is that if there IS domestic rebellion that threatens the very security of this country, the only authorities who can directly act are State governors deploying National Guard, not Federal government. So here we are with independent warlords, like Koch brothers, Art Pope, and the many billionaires who have purchased themselves federal, state and local legislators, often in collusion with State governors and legislatures threatening to dissolve the constitutional power of the Federal government. And the Federal government can't fight back.
****
This isn't your grandpa's coup d'état, but instead a cross between Taliban insurrection and old-fashioned revolutionista capture of federal power. That is the weakness in the idea of the "consent of the governed". There is nothing to prevent factions of said governed from threatening the well-being of the rest of the people, nor the integrity of national sovereignty as well as full faith and credit of the United States. We have a constitutional crisis on our hands that goes way beyond the particulars of this Republican hostage-taking over the Affordable Care Act (aka Obamacare).
****
As we found out yesterday in New York Times report, nefarious agents provocateurs have deliberately probed the weak links in our constitution that relies on patriotic consent, rather than enforced adherence or compulsion, to plot the dismantling of the very same structure of our constitutional government. They are abusing the protections afforded a political minority to heist raw power with impunity.
****
First, like an opportunistic disease the Kochs took over the Republican party completely and ravaged its innards, and implanted the suicide caucus, plus a choir of well-heeled local luminaries in towns and red states to enact their agenda. Now they have used their bought national pols to enact phase 2 of their planned disbanding of constitutional rule, damn the consequences save their narrow greed.
***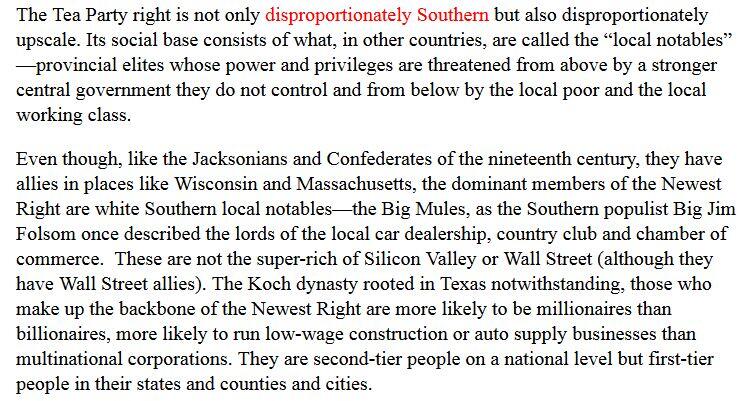 ****
So why destroy America? What America? The warlords of Somalia in the aftermath of Siad Barrre's ouster in 1992 provide a clue. They have no use for the notion of sovereign state with obligations to the people. The Kochs just want the spatial USA as a staging ground for their Bircher dystopia, not the sovereign country governed by it's restraining 'Constitution, and certainly not the people within it that they consider undesirable.
****
Folks we have to take this Koch threat seriously. Many of us have seen this menace on a comparatively smaller scale and it is not to be trivialized. They already showed us what that dystopia will look like. It's the Ryan Social Darwinist budget unfettered.
***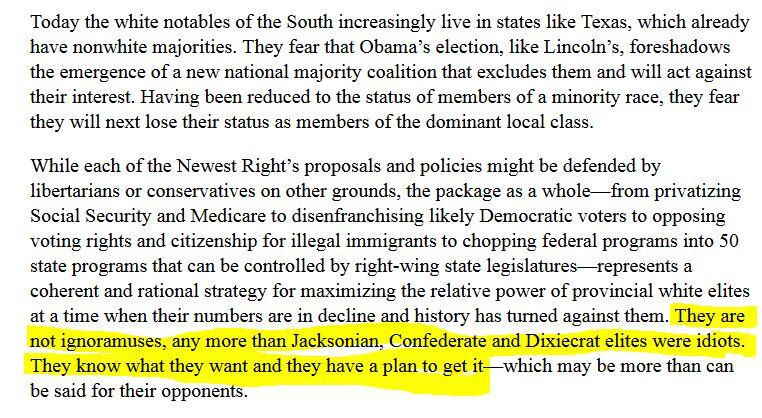 ****
Pres. Obama warned us in April 2012:
****
PS: I must give mad props to BobFr  @our4thEstate. He has been relentless in alerting us about the long history of a faction of US population itching to finish the unfinished business (in their view) of the Civil War.Please re-read his posts and Tweets. Thanks Bobfr.