Archive for October 7th, 2013
Categories: All Photos, All Videos and Articles
Tags: Barack Obama, Bircherism, constitution, Coup D'etat, Debt ceiling, gop, GOP Obstruction, Koch Brothers, Obama, President, shutdown, usa

COUP D'ETAT: KOCHS ARE WARLORDS
****
****
I have lived through 5 coups d'état. I know a coup d'état when I see one. USA is living through one right now as we speak. A Coup doesn't have to have guns (yet) and a military takeover of power to be one.
****
A nation is manipulated through a series of fiendishly planned rolling crises. Inchoate mass fear grows but its targeting is skillfully re-directed toward infighting, such that it becomes diffuse and rather impotent against the actual instigators. Trust for government and national institutions grows rancid.
****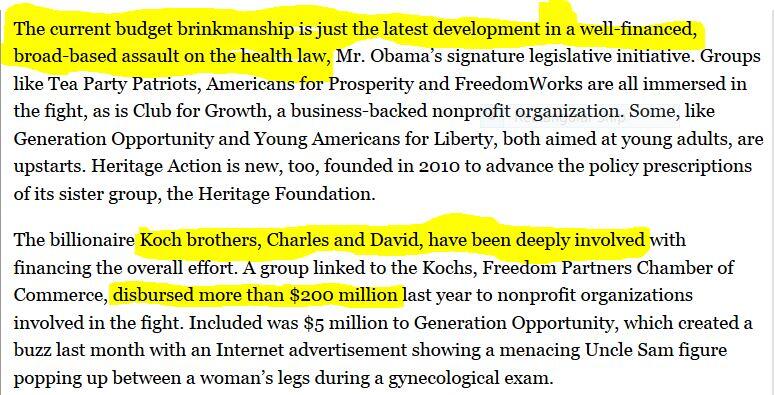 ****
Then a messiah runs to the rescue, suspends the constitution, promises to get rid of "waste, fraud, & abuse." Says the abrogation of said Constitution is only "temporary." Commandeers media to support "the people" in their new "Freedom, Liberty, Fraternity". Flag and anthem totems resurge in fresh parades glorifying the mother/fatherland. Power has been seized. Resistance is futile.
****
My native country went 5 times through this familiar choreography in its first 24 years after independence from colonial rule. Western Scholars of "the Third World" posited that these upheavals were the result of societies that had yet to build:
1. Strong Democratic governing institutions, rather than strongmen
2. Consensus of the governed
3. A national Identity rather than ethnic loyalties
4. An educated ruling elite that creates mechanisms for distributing political power efficiently among different constituencies
5. Capitalist ethos that productively harnessed and competitively rewarded the nation's talents
6. Rule of Law and a Constitution that balanced majority rule with protecting minority rights
****
---
---